In a world where fashion often sets the standards, it's time that we let our unique bodies set the trend for more inclusive and empowering fashion. This shift redefines the relationship between individuals and their bodies, leading to a more body-positive fashion industry that ensures fashion is for every body.
Table of Contents
Freedom Collection by Double XL: Celebrating Body Positivity and Individuality
After years of planning, we are proud to unveil our groundbreaking "Freedom" collection, which we carefully crafted aiming to break the standard-size barriers and revolutionise the fashion landscape.
Explore our latest collection where outfits are not merely garments but are masterpieces crafted from vibrant shapes and exclusive designs. Every stitch, every curve, and every hue tells a story of creativity and innovation. Each outfit features a variety of colours, expertly blended to evoke emotions and inspire a sense of awe. We believe in celebrating individuality with style, encouraging everyone to embrace their unique selves.
Celebrate freedom with free-size clothing.
Experience fashion freedom with free-size clothing! These versatile garments offer comfort and style for all body types, allowing you to express your unique personality without the constraints of traditional sizing. Say goodbye to ill-fitting clothes and celebrate the joy of embracing your body with free-size fashion.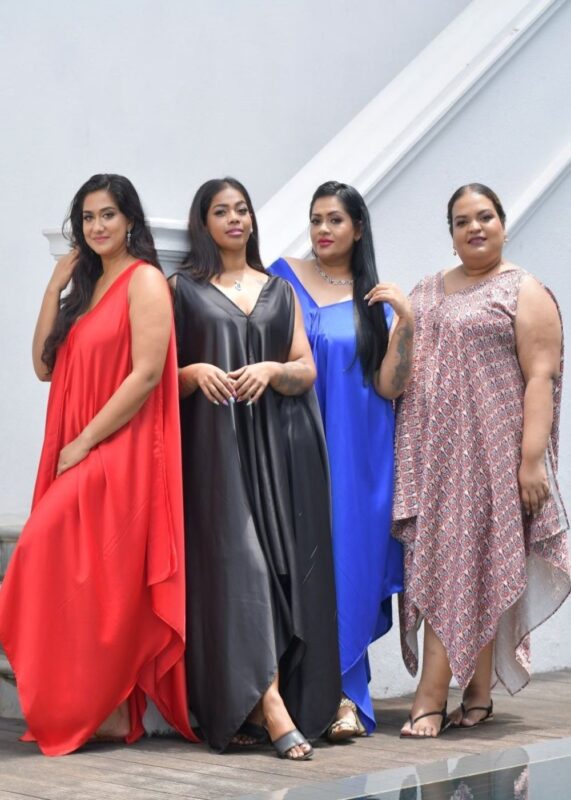 This Ladies Kate Dress symbolises elegance and exclusivity, radiating sophistication through its unique DXL Exclusive Printed and Plain patterns and a flattering V neckline. The handkerchief hem adds an extra touch of charm to this exquisite piece. This sleeveless dress is designed using luxurious satin and offers both style and comfort in a free size. Ideal for special occasions, it demands attention with its timeless charm.
Crafted from vibrant satin, the Short Sleeve Standard Collar Shirt features an exclusive DXL print. Its classic design, including a standard collar and regular fit, makes it a sophisticated and stylish choice for all gentlemen. This shirt exudes elegance and charm, making it a standout option for various occasions.

Empower Yourself with vibrant prints and designs.
The "Celebrate Every Body" slogan of our Freedom Collection is a testament to our brand's commitment to inclusivity and individuality. This collection embodies a celebration of diverse body types, recognising and embracing the unique beauty of each individual. Our prints and designs are designed to suit any body size and shape. With the Freedom Collection, we empower everyone to express their style, irrespective of their body type, and embrace the beauty of self-expression through fashion. Join us in celebrating the richness of diversity with every piece in this collection.
The Lisa dress effortlessly combines simplicity with fashion-forward style. Its modern appeal is enhanced by the prism print, setting it apart and ensuring a comfortable and relaxed look, making it a standout choice for those seeking both sophistication and ease.
This Exclusive Long Sleeve Shirt showcases a unique DXL Exclusive Printed pattern. Available with a smooth satin, this shirt combines luxury and style. The detailed design adds a touch of exclusivity, making it a standout choice for fashion-forward individuals. Elevate your wardrobe with this statement piece.
The Emma-draped dress combines elegance and sophistication, offering a touch of grace and unparalleled comfort. These contemporary and classic styles carefully blend, creating a symphony of prints that blends modernity and timelessness.
Clothing as a tool for self-expression through shapes
The Freedom Collection weaves a tale of individualism through its diverse shapes and colours. With elements ranging from rectangles and squares to cylinders and more, it crafts silhouettes as unique as fingerprints. Each piece is a tactile poem in luxurious satin, with bold yellows invoking joy, pinks whispering passion, blues resonating serenity, and reds contrasting with the purity of whites and sleek, smooth black. This collection allows individuals to embrace their essence boldly.
The Andriana dress combines sophistication and comfort with its chic circle shape and opulent satin fabric. Available in a variety of DXL printed and plain designs, this tailored masterpiece offers unparalleled elegance and a versatile free-size fit, suitable for any body shape and size.
Experience the ultimate freedom with our freedom collection, where fashion is for every body. Discover these exclusive outfits, available both in-store and online.
Stay connected with us on Facebook, Instagram, and TikTok, and subscribe to our YouTube channel for exclusive updates and inspirations. Join us in redefining fashion, celebrating body positivity, and embracing the unique beauty in every body.